Brittany by bike: 3 cycling routes to discover
Fancy a seaside holiday by bike? Head west and cycle through Brittany! With its greenways and cycle routes, this region is ideal for cycle tourism. Ride along the Atlantic coast and enjoy gourmet stops in villages full of charm and character.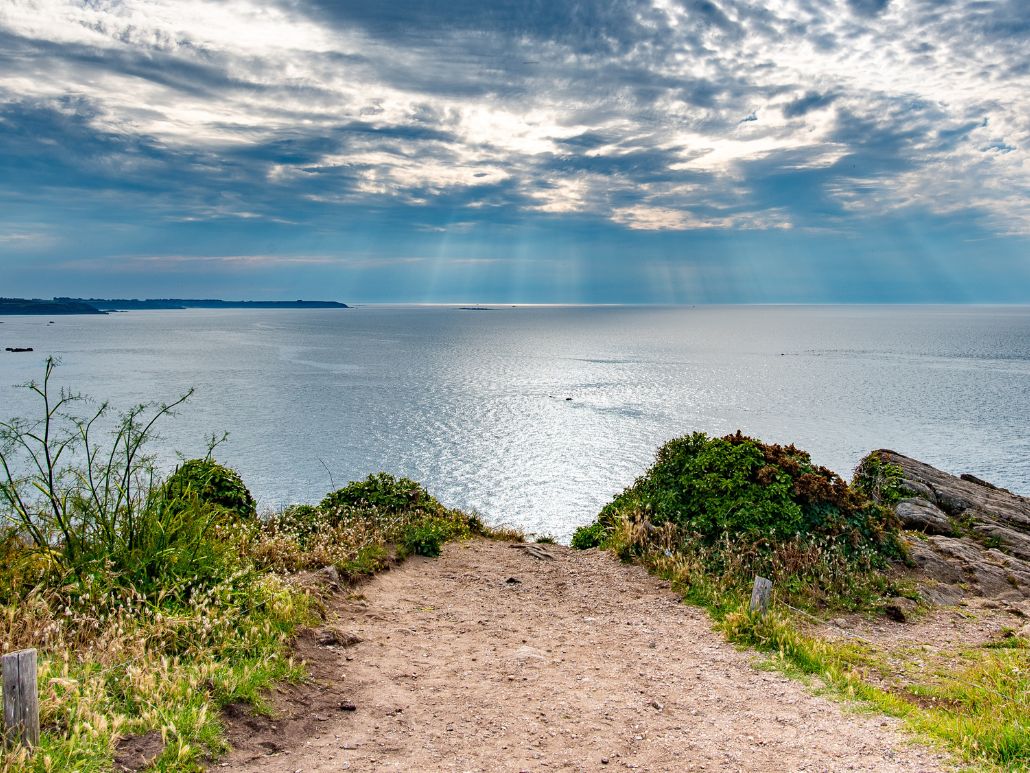 Brittany by bike and train
Want to go on holiday without a car? It's possible! We have selected for you a number of itineraries all accessible by trainat the start and at the finish.
With the 3 walks Discover Brittany by bike, its villages, its beaches, but also its natural parks.
Go for 2 or 3 days with the first tour if you are a novice and like to take your time to visit. The longer tour can take 4 to 7 days depending on your pace and level.
On these roads frequented by cyclotouristsYou will easily find gîtes and bed and breakfasts where you can spend the night!
1. Stroll from Concarneau to Lorient: 75.38 km
Stages : Concarneau, Pont-Aven, Guidel-Plage, Lorient
Looking for a breath of fresh air? This long bike ride should please you! Its starting point is Concarneau. Before you set off, take the time to visit this fortified town which is very lively in summer.
On this route, you start by taking a section of the Breton way 5 (the V45 cycle route). Go up towards the village of Lanriec. The Rue Parmentier takes you to an old railway track that has been converted into a greenway. It is reserved for pedestrians, rollerbladers, horse riders and motorised or non-motorised cyclists. With it, you go to Trégunc, your next stop.
Once rested, take the small roads of the D1 to the pointe de Trévignon. You can admire (from a distance) the Trévignon castle which is a private estate, built in 19e century.
Then go back inland and join the C2 at Keroren, then the C8 at Névez and finally the C5 on the Kerdruc road. This road follows the banks of the Aven and takes you across theHénan arboretum. The Château du Hénan and the tide mill are on your way. When the D24 comes into view, follow it: you can already see Pont-Aven!
Let yourself be intoxicated by the unusual atmosphere of this former city of painters. Art galleries abound in the middle of waterways and green landscapes. The C15 takes you to the Pont de Guilly.
Crossingz then Moëlan-sur-Mer before arriving at the port of Bas Pouldu. There, the Sirene III will take you on board for 4€ per person, including the bike. Just remember to book a little in advance and you can stretch your legs on the fine sand of Guidel-Plage !
Finally, go along the sea on the D152A wide path for walkers runs along this road to the town of Fort-Bloqué. Then follow the D162 to Ploemeur and Lorient. Part of this road has a bicycle path.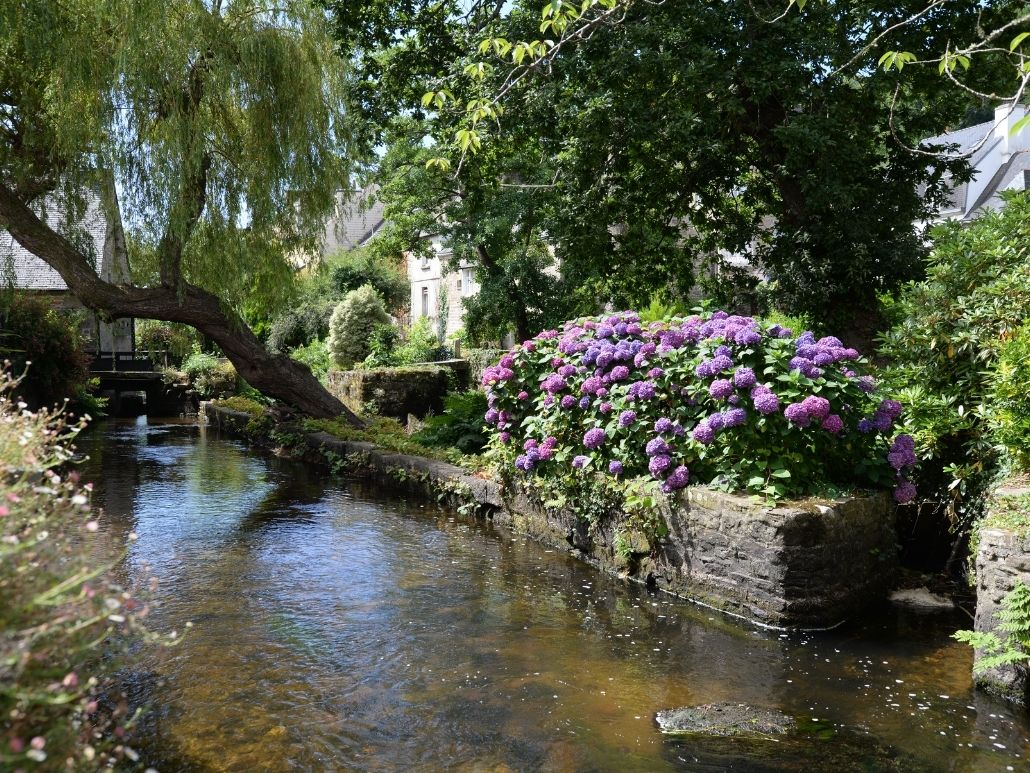 2. Crossing from Roscoff to Concarneau: 147 km
Stages : Roscoff, Morlaix, Carhaix-Plouguer, Gourin, Rosporden, Concarneau
During this tour, you also have a stopover in Concarneau, but this time at the finish! This route is twice as long as the previous one, but it has the advantage of being composed of 109 km of greenway. In addition, you will only use lane 7, which is fully signposted.
If you don't want to cycle to Roscoff from the Morlaix stationBus line 29 takes you there. Bicycles can be loaded and unloaded in both towns. It is really the ideal way to cycle around Brittany with your family.
At the beginning of the journey, do not miss the Roscoff Botanical Garden and the Morlaix viaduct. Then, go to Carhaix-Plouguer. This town famous for its Vieilles Charrues festival has other surprises in store for you, such as the Vorgium. This archaeological museum invites you to follow in the footsteps of the Gallo-Romans in an immersive experience.
Get back on the road and cycle to Gourin. You can enjoy a well-deserved break in one of the numerous creperies of the town. Once you've had your fill, head to Rosporden. Known as the City of Ponds, this natural setting is ideal for recharging your batteries before heading to the more festive town of Concarneau!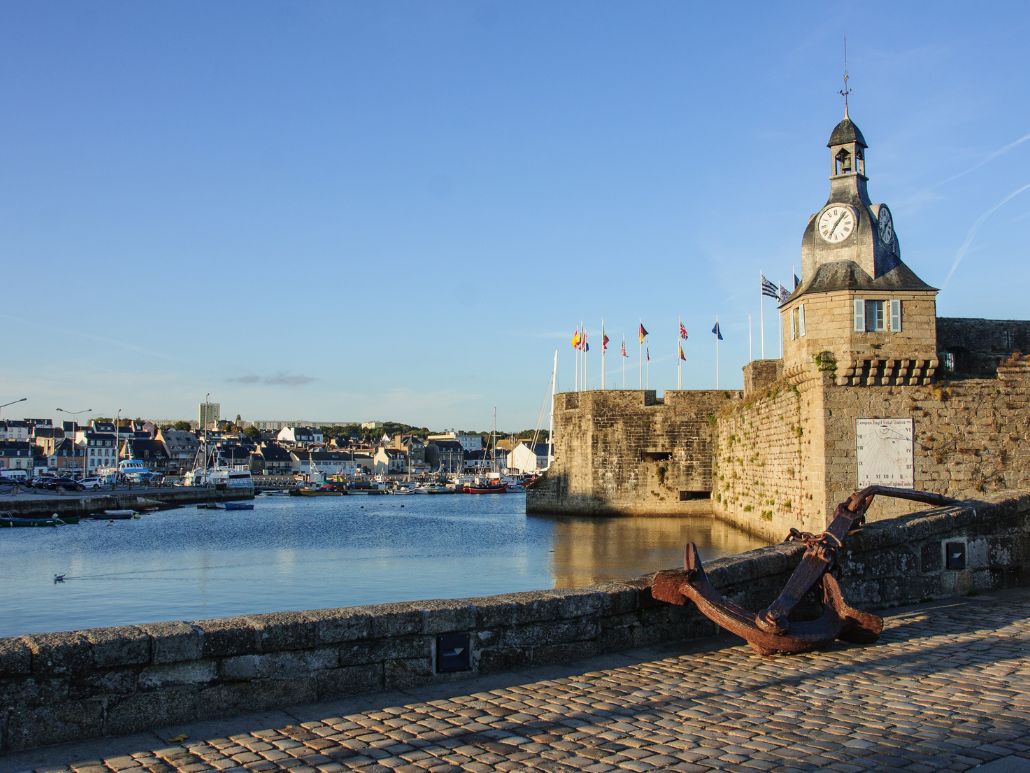 3. Major route from Lannion to Mont-Saint-Michel: 383.80 km
Stages : Lannion, Perros-Guirec, Tréguier, Paimpol, Saint-Quay-Portrieux, Saint-Brieuc, Erquy, Matignon, Pleslin-Trigavou, Saint-Malo, Cancale, Le Vivier-sur-Mer, Le Mont-Saint-Michel (and Pontorson if you came by train: add 9km!)
In Lannion, take time to admire the cobbled streets and old houses of the city centre. Then head for the Brélévenez district, known for its church which combines Romanesque and Gothic art. From here, you can reach Cycle route 4 also known as the Velomaritime towards Perros-Guirec. You will not leave it until you reach Mont-Saint-Michel. 
Allow 2.5 hours for the journey along the pink granite coast. It will take a little longer if you make a diversion to the Ploumanac'h beach but, I promise, it's worth it! Then head for Saint-Brieuc and its bay, but don't do it all at once. Take time to breathe by stopping at each stage.
Next must-see city: Saint-Malo ! From its ramparts, it offers an incredible view of its historic centre and the sea. Less than 20 km away, you will also be charmed by Cancale, nicknamed the pearl of the Emerald Coast. Famous for its oysters, this is the opportunity for you to take a gourmet break!
Your cycling trip is coming to an end. Only one more stop at Le Vivier-sur-Mer before you face the Mont-Saint-Michelat the gateway to Normandy! Inside, you will have to continue your ascent on foot, but you can park on the bicycle parking located before the footbridge.
If you are travelling by train, the nearest station is in Pontorson. Go there by following the river Couesnon. This will only add 9 km of greenway, which is a lot of fun!
What difficulties can be expected?
The planned steps vary between 20 and 40 km. Depending on the height differences along the way, it will take you 1.5 to 2.5 hours of effort. to go through them. You need to be at ease on small roadsThe Roscoff-Concarneau route has the advantage of being largely on a greenway.
We have avoided the steep hills of Finistère, but even though these three routes are easy to medium difficulty, you should be prepared for some climbs and a bit of endurance.
Are you lacking in training? L'electrical assistance of the Teebike wheel can really help you get the most out of your ride! No need to buy a new bike. With its built-in battery, it allows you to electrify your bike without the need for special technical skills. Install it in place of your front wheel in minutes, adjust the power to your needs and ride!