5 tips for getting back on the bike
For practical and economic reasons, cycling is becoming increasingly popular. The good news is that even if you haven't cycled for 10 years, you can still get back on the bike! Getting back on the bike just takes a little practice and a few tips.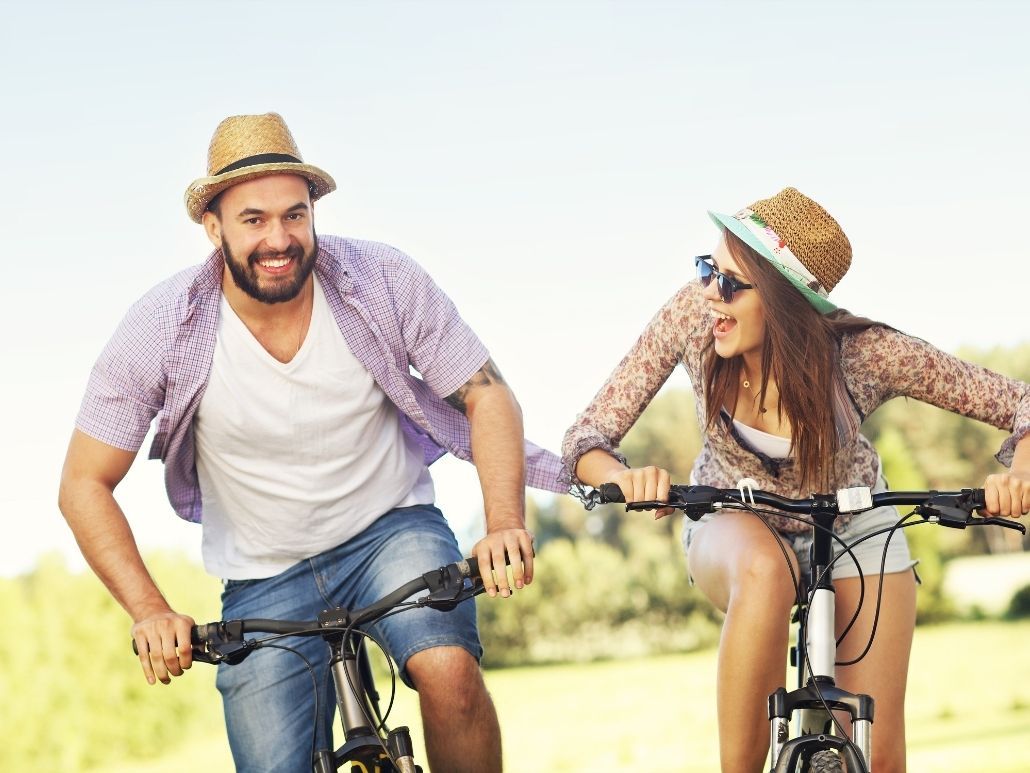 Want to get back on the bike?
Increasingly expensive fuel, traffic jams, too sedentary a job... Getting back on your bike could be THE solution to all your problems. At least that's what more and more French people think. In 2020, the association Vélo et Territoires revealed that cycling increased by 27 % outside of confinement periods.
Indeed, the bicycle is a means of transport economical and fast. During rush hour, it continues to move at least 15 km/h when cars are standing still in traffic.
Even electric, it is much less polluting than a car and better for your health. When the sunny days arrive, getting back on the bike is also a way to get some fresh air!
How to get back on the bike?
You've made the decision to get back on the bike! The problem is that you're a little apprehensive about the physical effort involved... Here are some tips on how to a smooth recovery and in complete safety!
1. Choose your

equipment
This is the first step to getting back on the bike ! It is essential that you feel comfortable to enjoy your outings. To do this, you need to choose a bike that is adapted to your movements.
The city bike is ideal if you only ride on paved roads in good condition. Does your route include dirt roads or rough roads? In this case, a mountain bike is the best choice, or even a mountain bike depending on the condition of the road.
Think also of the essential accessories to your safety (helmet, headlights, reflective waistcoat) and to those which will bring you more comfort in your daily life such as a rucksack, a luggage rack, a saddle cover, a pair of trainers...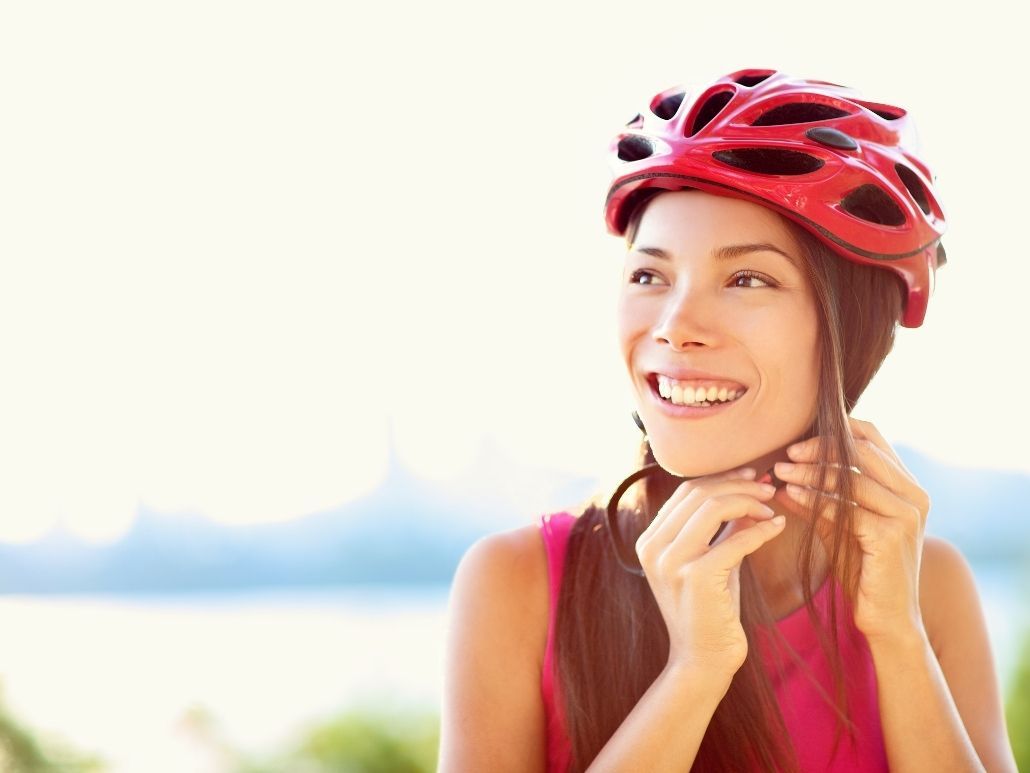 2. Adjust your position on the bike
In order to avoid unnecessary pain and to be comfortable, it is essential to adjust the height of saddle and handlebars.
On a city bike or Dutch bike, the curved shape of the handlebars should allow you to keep your hands close to your body and your back straight. This is the most comfortable posture on this type of bike. With a mountain bike, a seated position with a slight forward lean is recommended to accommodate sportier riding and longer trips.
Have you got your old bike out of the garage? Take this opportunity to do a review. Check its general condition (tyres, cables, chain...), reinflate your tyres and test the brakes and lighting.
3. Warm up!
Once your bike has been checked, it's time to get started! Be careful, before you start pedalling, first do a warm-up session. Even on flat ground and at a moderate pace, you are not immune to a muscle strain.
To avoid the risk of injury and accidents, it is essential to warm up your muscles and joints. Some of them are particularly strained. Do not hesitate to rotate wrists, elbows, ankles and pelvis before you get on your bike. For the knees, a few bends are sufficient.
Then, pedal slowly for the first 15 minutes to finish warming up your joints and leg muscles (thighs, hamstrings, calves).

Once you get used to riding your bike, your body will get used to it and the warm-up should be less necessary for your joints and muscles, as you will be becoming quite an athlete!
4. Choose a quiet corner...
And that you want to discover! This will keep you motivated on your first outing. Initiate yourself to cycling tourism You can get back on the bike by visiting parks in large cities or cycling along the cycle paths of historic districts. You can also use cycling as an excuse to visit a nearby village or go on a weekend trip to the countryside.
Running out of ideas? Discover the greenways close to your home. The absence of cars makes them ideal for cycling alone or with the family. Built along canals, through forests or on former railway lines, they are quiet and guarantee a pleasant ride. breath of fresh air.
Don't think too big at first. Depending on your level, a about ten kilometres can be enough, especially if you don't do any other physical activities. Your first few outings will give you confidence. They should also allow you to gently exercise your cardiovascular system and tone your muscles.
5. Set yourself goals!
After a few training sessions, you can start to set more advanced goals. Of course, they will not be the same depending on the practice you are considering.
If you want to get back on the bike to replace the car for your daily commute, cycle to work 5 times a week is already a great goal. It will help you to reach and, even better, exceed the 25 minutes of daily physical activity recommended by the WHO (World Health Organisation).
However, if you are motivated by competition or long rides, you will need to make a plan of action! Try toincrease the length of your outings every week and measure the distance travelled.
Whether you're a cyclist or a sportsman, there are many applications for you, such as Strava, Cycling or Here WeGo. They will help you to stay motivatedThis is the key to consistency! In addition to route information (GPS), they provide you with performance and health data: average speed, altitude difference, level of difficulty, calories burned, etc. You feel better and better and the results are really measurable.
Need a little help?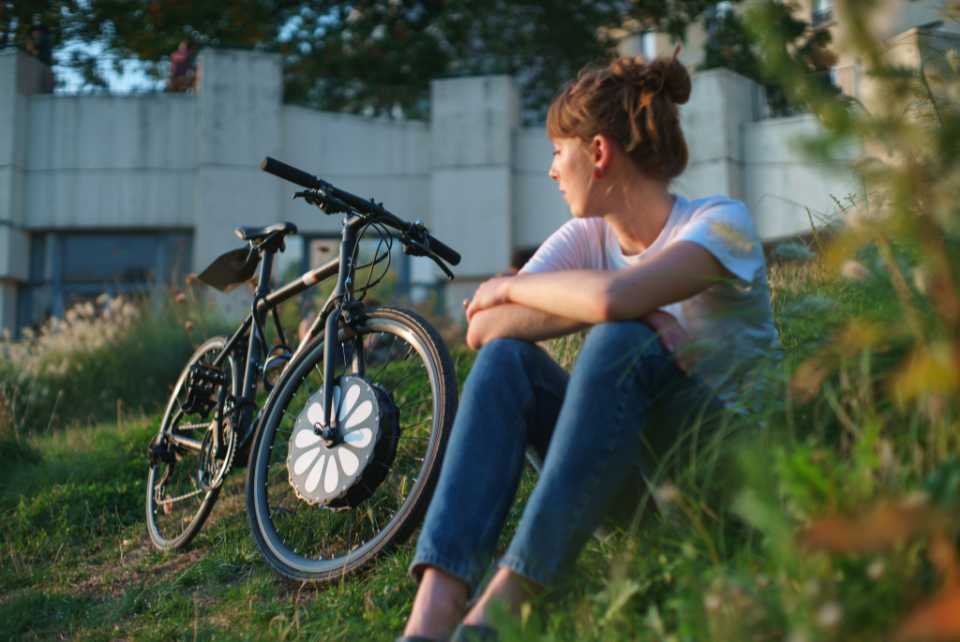 Even with training, getting back into cycling can be difficult. If you are a multi-person touring cyclist and you are worried that you will not be up to the task, electric assistance is THE solution. With it, you can fully enjoy your new hobby.
It is also often a must for cyclists who use their bikes on a daily basis to go to work and who sometimes have a heavy load (office stuff, shopping, etc.). With the fatigue of the day, the electric assistance is a great comfort to maintain a sustained pace or to face some difficult climbs.
You have chosen a city bike, a mountain bike or a MTB to start pedalling again? There's nothing to stop you keeping your favourite bike! The Teebike wheel with integrated battery allows you to convert your bike into an electric bike for 795€. If you don't have a bike, we also offer city bikes for only 5€ more. They are reconditioned by people in professional reintegration as part of our partnership with the Apprentis d'Auteuil. It's a little help to get back on the bike and it's good for everyone!